These days, video content is everywhere, so there are many reasons for strengthening video editing skills to keep viewers engaged. Text can help enhance the quality of your video, serving both aesthetic and practical purposes by conveying essential information that might be difficult to understand through images alone. Some ways you can make videos more informative and engaging include opening and closing credits, subtitles, and text overlays.
This article introduces some of the best free online video editing tools to add text to videos. These tools offer various options, such as font styles, sizes, and colors, allowing you to customize the video's text to match your brand or personal preferences. By using these tools, you can create visually stunning and engaging content that is both informative and attractive.
Kapwing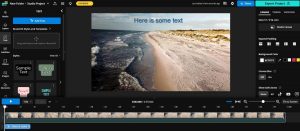 Kapwing is a free, cloud-based video editor that offers a vast collection of templates, as well as copyright-free videos, music, images, and GIFs. It allows you to repurpose online content by pasting a link, and its AI-powered subtitle tool automatically adds subtitles and translates videos.
When it comes to adding text to your video, there are plenty of cool templates to choose from, along with lots of customization options. You can easily drag the text to the timeline where you want it to appear and add fade-in, fade-out, flicker, and drop effects. However, the free version is limited to 720p resolution and comes with a watermark. If you want a higher resolution and no watermark, you will need to pay for the Pro version.
Pricing:
Limited free version
Pro version for $24 per month or $192 per year
Platforms: Any web browser
Pros:
Straightforward to use
Quick video editing
Plenty of text styling options
Enables beginners to create professional-looking videos
Cons:
Can sometimes be glitchy
The layers, fonts, and text can sometimes change when you render your video
The free version is rather limited
FlexClip
FlexClip is a great tool for creating professional-looking videos, even if you have no previous video editing experience. If you want to overlay text on video, you have everything you need. There are hundreds of fonts, covering every style you could want, and there are various preset text animations available, such as typewriter, fade, and popup. In addition to adding your own custom text, you can also get FlexClip to automatically generate subtitles for your video.
Pricing:
Limited free version
Paid versions start from $9.99 per month or $71.88 per year
Platforms: Any web browser
Pros:
Clean dashboard
Easy-to-use drag-and-drop interface
Large library of images and background music
You can create videos quickly
Cons:
Can be slow to load projects
Less control over the creative process than some other video editors
Cannot reuse uploaded images in multiple projects
Movavi's Online Video Editor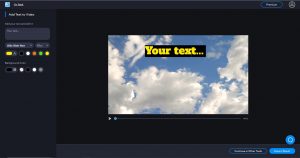 This online video editor by Movavi is effortless to use and beginner-friendly. It has several tools that can help you quickly trim, crop, merge, and resize, apply transitions and music, and add text to video online. Just add your file and start editing.
For text options, you can choose from various fonts, adjust the size, set the color of the text and even for the background.
Pricing:
Free
Premium version ($19.95/month or $119.95/year) without a watermark and more features
Platforms: Any web browser
Pros:
Easy to use and beginner-friendly
Good collection of music, transitions, and text fonts
You can upload video files from Dropbox
Cons:
Not as many options as some other video editors
Slow upload and export speed
Flixier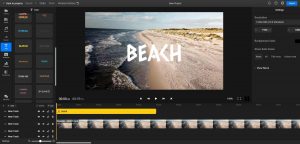 With Flixier, you don't need to install any software as it's all done online in your browser. There are two big advantages to this: you can edit your videos from anywhere, and you can easily collaborate with team members on the same video. Another huge plus is that it has a large library of templates and stock footage ready for you to use. You can also pick a text style preset to make your video more interesting.
Pricing:
Limited free version
Pro: $14 per month
Business: $30 per month
Enterprise: $55 per month
Platforms: Any web browser
Pros:
User-friendly and intuitive
Can collaborate with team members in real time
Large library of templates and stock footage
Has some interesting-looking text style presets
Cons:
Some features are hard to find
Voice2v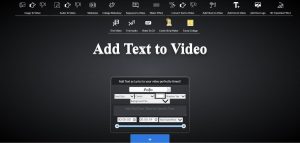 Voice2v offers a free tool for adding subtitles to any video. All you need to do is upload your video file, and then you will be presented with the option to add text to the video. You can choose the font style, font size, color, shadow, background, start and end times, and effect. Once you have set the text, you can create your video and download it for free.
However, it does not have the drag-and-drop interface that most other video editors have, so you cannot visually place your text where you want it and see in advance what it will look like.
Pricing: Free
Platforms: Any web browser
Pros:
Completely free
Quick and easy to use
Cons:
Lumen5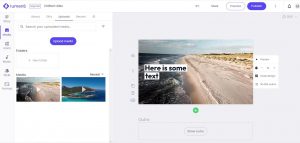 Lumen5 is a cloud-based video editor designed to transform articles, blog posts, and scripts into engaging videos. It offers various templates, allowing you to quickly create a video that matches your brand's style. Lumen5 is easy to use, making it a great option for beginners. However, the basic version is somewhat limited, and to access all the features, you will need to upgrade to one of the more expensive plans.
Pricing:
Basic: $19 per month
Starter: $59 per month
Professional: $149 per month
Platforms: Any web browser
Pros:
Easy to use
Can automatically create a video from an article or script
Various templates are available
Cons:
Seems more aimed at creating slideshows
The basic version is somewhat limited
Rather expensive to get all the features
Wrap Up
These are just a few of the many video editors available for creating cool videos on PC and mobile devices. Each has its features, pros and cons, so be sure to consider your needs when selecting the best one for you.  Whether you're a beginner or an experienced user, these video editors are sure to help you create stunning videos.