Social networks are one of the most powerful tools when it comes to marketing. And if there is a platform that has conquered the whole world in recent years, that is Instagram. A place where the image is the protagonist, either fixed as a photo or in motion as a video. In any case, we are facing a window through which you can show your book to a large potential audience.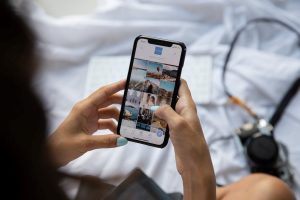 Surely, you have met many authors through this social network. You, too, can use Instagram to promote your book, make yourself known as a writer, and get your work to become the protagonist of much attention. These are some keys that you should pay attention to.
Determine your goals
What do you hope to achieve by promoting your book on Instagram? The answer is to sell more copies. But this should be one of many goals. You can bet on different objectives depending on where your brand is located as an author.
Suppose you already have several followers and a circle of readers with whom you interact. In that case, the goal should be to show them your work and highlight the value proposition so that they become interested in the book. If you are not working on anything new, you should also pay attention to Instagram and advertising on this platform. Take advantage of these moments to generate content of interest around your brand and continue to keep your target attentive.
Build your brand as a writer and tell a story with your publications
Promoting your book on Instagram should include more than just making it known, generating sales, and saying goodbye. Mainly because this is almost only possible with having worked on your brand. Luckily, we are facing a social network that works well on storytelling. Not only will you have to make publications where you show your work, you can also take advantage of storytelling.
For example, you can use Instagram to show readers how you work. You can even do a live show where all of them can see your creative space, where you speak directly to them and make them participants of who you are. In short, decide how you want to sell yourself what your value proposition is, and use this social network as a window to show it. Build a story through your posts!
Images are the main element
Instagram is a social network where images are vital. Therefore, you should focus on how to tell your value proposition through them. For example, if you are publicizing your work, a montage with your book's cover can impact the reading public and arouse their interest.
On the other hand, if you are giving a presentation, try to provide a graphic testimony of the event, as this will show that your book can move people. If you have written a novel, a good idea is to use the services of an illustrator to show the world what the characters look like.
Create videos and publish reels where you talk about your book
Instagram started as a social network designed for photography. With time, video has been gaining ground, and it is now possible to take advantage of this format to tell stories. Take advantage of the opportunity this means to promote your book! Reels are a great help to build your brand and develop the story around your work.
For example, you can use a video to show your followers the space where the work was born or edit one to show the differential proposal of your book dynamically. We recommend that you ensure at least 1 reel a week for a good promotion on Instagram.
Paid tools that can be useful for you
Facebook and Instagram belong to the same owner. This has allowed the synergy and entry of many tools that favor promoting and selling different items. For example, if you link both accounts, you will have the opportunity to use paid tools that will allow you to reach a larger audience, segmenting the niches you want to reach.
In addition, many developers offer tools to optimize the promotion of your book on Instagram. Options range from spaces with which you can quickly create stunning designs (in the case of Canva), for others to better analyze your audience, in the case of Metricool.
Get inspiration from other writers who are succeeding on Instagram
You should always pay attention to trends in social networks to know what your audience demands and, in this way, connect with them. That's why we recommend that you look to see the language, type of publications, and routines that follow the accounts dedicated to books that are most successful on Instagram. You should refrain from copying this activity in networks point by point but take note to know how you should act.
You should also look at accounts that deal with books similar to yours, it is useless to apply the promotion strategies on Instagram of a well-known essayist if you want to show the public a novel or a collection of poems.
Be part of communities of writers and readers
They don't call them social networks for nothing. Around these platforms are created circles and communities ideal for promoting your book. You can also contact other writers similar to you or participate at some paper writing services forums. In this way, you can organize entertaining discussions to attract readers.
A bet that will not only help you to spread your brand as an author but will also allow you to contact new readers to attract and make them part of the circle you are creating. You are not alone; do not think that other authors are competition. You can create an exciting synergy.
Keep your Instagram profile alive
The biggest key to promoting your book on Instagram is not to give up and be constant. You will gain followers gradually, and you should not be abandoned. Organize a calendar of publications and remember that it is not about fattening your account just by mixing the contents so that your readers see variety on your wall and always something new that invites them to continue participating.
Sweepstakes, reels, direct images, illustrations, and even excerpts from your book. All this will add up to ensure the best promotion of your work on Instagram.