Spying on someone's phone is quite a risky affair that can land you in trouble if you're caught. However, there are a few reasons that may prompt you to spy on your husband's cell phone. For instance, his recent behaviors might suggest that he's cheating, or maybe you want to ensure that he's safe.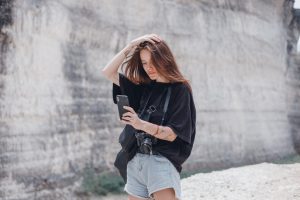 In this article, we'll discuss how to spy on your spouse's phone with the help of Spyzie vs mSpy without them knowing.
How to Spy on Your Husband's Phone
Here's a list of the best ways to spy on a husband without his knowledge:
1. Secretly go through his phone
Most couples usually avoid inspecting each other's phones because it can potentially create resentment and trust issues. However, it's possible to sneak behind your husband's back and check his phone when he is distracted.
Select an opportune time when he's relaxing, performing chores, or sleeping and check his phone messages, gallery, emails, and more. Ensure you gather as much evidence of their infidelity as possible before returning his phone to its original position.
Unfortunately, this might not be the best method since your husband is likely to notice that you're trying to spy on him.
2. Check out the cloud
The cloud stores a lot of private data, including old photos and deleted selfies. If you're unsure about your husband's password or don't want to check his phone secretly, this would be a better option. Ensure you sign into his cloud and check whether you'll find any suggestive content that points to infidelity.
On the downside, this method can be quite laborious and time-consuming for most people.
3. Install a spy app
If you're certain that your man is cheating, the best way to catch him is by using a spy app. Such software is designed to work in stealth mode, making them minimally intrusive. However, you'd need to physically install the app on his phone before tracking his call logs, social media messages, SMS texts, and more.
After conducting some research, we've found mSpy to be the most effective app to spy on the husband's phone.
How to Use mSpy?
mSpy is a highly-rated monitoring app that contains a variety of tracking features. If you've been wondering "how to spy on my husband's Android phone without his knowledge", this app can certainly come in handy.
When it comes to catching a cheating partner, these mSpy features will help:
GPS Location Tracker. If you're curious to know where your husband visits frequently, mSpy contains a built-in location tracker that reveals his real-time location on a map.
Geofencing Tool. You can also set "safe" and "dangerous" zones on the map using this app. Every time your husband ventures into the danger zone or wanders out of the safe zone, you immediately receive a notification.
Keylogger. mSpy also has a keylogging tool that captures your target user's keystrokes as they chat. This feature can help you identify what type of messages he sends to other people.
Social Media Monitor. You can get a bird's-eye view of your husband's interactions on Instagram, Telegram, Facebook Messenger, Tinder, Skype, and other social networking sites using mSpy.
So You've Caught Him Cheating: What Next?
In case you spy on your husband's phone and catch him cheating, it's important to remain calm and avoid reacting impulsively. Here are some more tips you can follow:
1. Confront them directly
If you already have solid evidence of him cheating, don't beat around the bush. Reveal what you know and give him time to respond. You should also avoid talking to other people about it before having a discourse with your significant other.
2. Review your relationship
Have a candid assessment of the relationship you have with your partner ─ this will help you work out your next move. If you have children together, consider seeing a couple's therapist to try and fix your marriage. Remember, a stitch in time saves nine.
3. Give yourself time to heal
It's devastating to find out that your partner is cheating. Rather than letting negative emotions take over, find helpful ways to distract yourself and allow the healing journey to commence. Most importantly, figure out what you truly want going forward.
Conclusion
Learning how to spy on your spouse's phone without them knowing will equip you with the necessary skills required to gather proof of infidelity. Based on our assessment, mSpy is the most reliable spy app in use today, and we highly recommend it.